STEP Maths Tutoring
Level the playing field with our STEP tutors and increase the chances of you or your child achieving the grades they need to get into their first choice university for maths.
STEP Maths Tutoring
Level the playing field with our STEP tutors and increase the chances of you or your child achieving the grades they need to get into their first choice university for maths.
STEP Tutoring
STEP Tutoring
STEP examinations are required for entry to study maths in Cambridge University, Warwick University. Some other top universities in the UK encourage maths applicants to take STEP. Due to its difficulty, most students receive extra support for STEP. Many of the best UK schools prepare students for STEP each year, running extra classes and accelerating their top sets so that they can move onto the greater challenge of STEP (and MAT and AEA) in their final year. We find that, without this extra support and specialised tutoring time, very few students can rise to the challenges and increased mathematical demands of STEP.
Competition is stiff, but at Wentworth Education we can help level the playing field for your child – increasing their chances of meeting the grade requirements for their first choice university. We will pair you and your child with your own private STEP tutor; a tutor who has firsthand experience taking STEP as a student and who then went on to study mathematics at university.
If you are a parent or a student thinking about taking STEP, and are unsure what it entails, please see below for our brief guide to STEP and a useful resources section where you can download a pack containing the STEP syllabus, past papers, solutions, and more. Alternatively, please contact us if you would like to hear more about our tutoring options and what tutors we have available.
Our STEP Tutors
There's no way round it: STEP exams are hard, and only the best teachers and tutors can teach it. Our STEP tutors have firsthand experience with STEP exams – they took and passed STEP when they were at school. They all then went on to study maths at university, mostly at Cambridge. Some of our private tutors now teach in the UK's most prestigious schools, each year helping prepare groups of students for STEPad and maths at university.
Our STEP tutors are experts at mentoring high-flying school students through the 'step' up in mathematical problem solving ability, approach, and self-confidence needed to pass STEP exams. Although the STEP syllabus is based around the A-Level syllabus and very little new material need be taught, the style and difficulty of STEP questions is entirely new. Our tutors help teach everything from the most useful trigonometric integration substitutions to the approach needed to sketching functions. They inspire the confidence to strike out into the slightly unknown areas of maths that STEP questions often require.
What is STEP?

STEP stands for Sixth Term Examination Paper and is examined by Cambridge University's Admissions Testing Service. STEP is a mandatory requirement for entrance to study maths at Cambridge and Warwick; some other universities encourage applicants to take STEP (Imperial, KCL, Loughborough, Oxford, UCL, Bath and Bristol). Oxford now also uses its own exam, the MAT. Universities use STEP as a way of differentiating between the very best students as the standard of modern day A-Levels cannot distinguish the very top candidates.
The syllabus is designed to be the same as the syllabi for A-Level Maths (STEP 1 and STEP 2) and A-Level Further Maths (STEP 3). However, the exams are very different and much harder. A-Level exams typically last for 90 minutes and consist of several 5-15 minute questions. Students are expected to complete all of them. In contrast, STEP papers are 3 hours long, consist of 13 questions (8 pure, 3 mechanics, and 2 probability and statistics questions), each of which will take around 30 minutes. Only the best 6 solutions count towards a student's score. STEP questions often expect students to 'think outside the box' and be comfortable being guided by the question into areas of maths slightly outside of the syllabus. Normally, if you have done Further Maths A-Level you sit STEP 2 and STEP 3, but if you have only done A-Level Maths then you sit STEP 1 and STEP 2.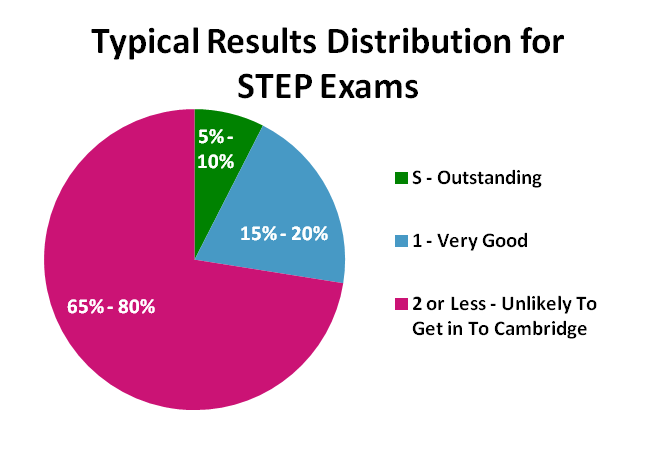 STEP exams are graded in a 5 level system: S (outstanding), 1 (very good), 2 (good), 3 (satisfactory) and U (unclassified). Roughly, four good (not necessarily perfect) answers achieves a 1 (very good), however grade boundaries move slightly year on year. Only 2,000 to 3,000 students take STEP. Results vary by test each year but only 5%-10% achieve an S (outstanding) and 15%-25% achieve a 1 (good). Cambridge asks most students get at least a 1 (very good) on both papers. This means you need to be in the top few hundred people in the country to get into Cambridge.
Students can take STEP at most examination centres (including schools), and entry costs are similar to those of A-Level examinations. They are sat at much the same time as A-Levels and results come out on the same day. However, some schools are not used to entering students for STEP, so parents must ensure that their child is properly supported.
Useful Resources for STEP & STEP Past Papers
There are lots of resources for STEP available free online, including past papers and solutions. We recommend using these as our tutors use them extensively when tutoring. We have prepared a downloadable pack (compressed as a .7z file) with the most useful resources available free online.
Disclaimer: we do not own any of these resources and full credit goes to the original owners.
Selected Profiles of our STEP Maths Tutors
Please see below some example profiles of the STEP Maths Tutors that we represent. If you would like to hear more, you may be interested to read about our tutor selection criteria or to read about Wentworth Tutors' philosophy and approach in a letter to parents from Dr Katherine Wiles, our Founder. Alternatively, some more profiles of our STEP Maths Tutors can be found on our dedicated tutors page, where you can filter by subject.
Samuel

Channon

–
Private Tutor in Greater London
I grew up in Devon and went to a local Grammar School, where I first started tutoring whilst studying for my A-levels. I went on to study Mathematics at Trinity College, Cambridge, graduating in 2013 with an MA (1st-class) and MMATH (Merit). I was offered a place at Warwick University to study for my PhD, but ended up changing fields. I am now studying Medicine on an accelerated graduate entry program at Barts and the London School of Medicine, graduating in 2018.

Although I've ended my own career in Maths for now I have never lost my passion for the subject, and enjoy continuing this through tutoring. I've worked with students of all abilities, with the bulk of my experience tutoring Maths and Physics at A-level and GCSE standard. I also tutor Biology and Chemistry, drawing on the past two years I have spent studying Medicine. Studying Medicine has enhanced my tutoring ability, as we spend a considerable amount of time developing our communication skills. ...
Male
Wentworth Tutors
enquiries@wentwortheducation.com
+44 20 8068 6665
Nicolas

Pimpare

–
Private Tutor in London Southbank
I was brought up in Paris and moved to London to study at Imperial College, where I obtained a Bachelor's and Master's degree in Theoretical Physics with High First Class honours. My research focused on the way in which alternative logic systems can help us bridge the gap between quantum mechanics and relativity. I was awarded Associateship of the Royal College of Science.

Although I am a science specialist, I also have a strong background in English and Verbal Reasoning. I sat the GRE in 2016 for entrance to US Grad School and got exceptionally good grades (Verbal Reasoning - 99th percentile, Analytical Writing - 93rd percentile).

Since 2011, I have offered private tuition for all major examination boards as well as working for the Imperial College summer schools. ...
Male
Wentworth Tutors
enquiries@wentwortheducation.com
+44 20 8068 6665
Edward

Smith

–
Private Tutor in London
I studied mathematics at Trinity College Cambridge; I graduated with a MA (1st) and a MMATH (Distinction); and was a Senior Scholar. Before Cambridge I went to school in Aiglon College, a premium boarding school in Switzerland. I grew up in England and Switzerland, but also lived in Asia and Africa as a child.

I started tutoring and helping other students learn in school and have been tutoring for around 15 years. I have mostly tutored maths and physics from 13+ and Common Entrance all the way up to University degree level. With Wentworth Tutors, I have also helped several students prepare for interviews with Strategy Consultancy firms: for internships, in the graduate milkround and for experienced hire positions. However, when I worked as a strategy consultancy, I also ran general business and technical skills training for groups and in 1-on-1 teaching. As a consultant I regularly helped train colleagues in Excel, programming, and SQL; and even wrote some of the courses.

Prior to co-founding Wentworth Tutors, I worked at OC&C Strategy Consultants, a top tier strategy consultancy, based in London. I am Wentworth Tutors' business manager – setting the business strategy as well as managing the day to day operation and administration of the business. ...
Male
Wentworth Tutors
enquiries@wentwortheducation.com
+44 20 8068 6665