STEP Maths Tutoring
Level the playing field with our STEP tutors and increase the chances of you or your child achieving the grades they need to get into their first choice university for maths.
STEP Maths Tutoring
Level the playing field with our STEP tutors and increase the chances of you or your child achieving the grades they need to get into their first choice university for maths.
STEP Tutoring
STEP Tutoring
STEP examinations are required for entry to study maths in Cambridge University, Warwick University. Some other top universities in the UK encourage maths applicants to take STEP. Due to its difficulty, most students receive extra support for STEP. Many of the best UK schools prepare students for STEP each year, running extra classes and accelerating their top sets so that they can move onto the greater challenge of STEP (and MAT and AEA) in their final year. We find that, without this extra support and specialised tutoring time, very few students can rise to the challenges and increased mathematical demands of STEP.
Competition is stiff, but at Wentworth Education we can help level the playing field for your child – increasing their chances of meeting the grade requirements for their first choice university. We will pair you and your child with your own private STEP tutor; a tutor who has firsthand experience taking STEP as a student and who then went on to study mathematics at university.
If you are a parent or a student thinking about taking STEP, and are unsure what it entails, please see below for our brief guide to STEP and a useful resources section where you can download a pack containing the STEP syllabus, past papers, solutions, and more. Alternatively, please contact us if you would like to hear more about our tutoring options and what tutors we have available.
Our STEP Tutors
There's no way round it: STEP exams are hard, and only the best teachers and tutors can teach it. Our STEP tutors have firsthand experience with STEP exams – they took and passed STEP when they were at school. They all then went on to study maths at university, mostly at Cambridge. Some of our private tutors now teach in the UK's most prestigious schools, each year helping prepare groups of students for STEPad and maths at university.
Our STEP tutors are experts at mentoring high-flying school students through the 'step' up in mathematical problem solving ability, approach, and self-confidence needed to pass STEP exams. Although the STEP syllabus is based around the A-Level syllabus and very little new material need be taught, the style and difficulty of STEP questions is entirely new. Our tutors help teach everything from the most useful trigonometric integration substitutions to the approach needed to sketching functions. They inspire the confidence to strike out into the slightly unknown areas of maths that STEP questions often require.
What is STEP?

STEP stands for Sixth Term Examination Paper and is examined by Cambridge University's Admissions Testing Service. STEP is a mandatory requirement for entrance to study maths at Cambridge and Warwick; some other universities encourage applicants to take STEP (Imperial, KCL, Loughborough, Oxford, UCL, Bath and Bristol). Oxford now also uses its own exam, the MAT. Universities use STEP as a way of differentiating between the very best students as the standard of modern day A-Levels cannot distinguish the very top candidates.
The syllabus is designed to be the same as the syllabi for A-Level Maths (STEP 1 and STEP 2) and A-Level Further Maths (STEP 3). However, the exams are very different and much harder. A-Level exams typically last for 90 minutes and consist of several 5-15 minute questions. Students are expected to complete all of them. In contrast, STEP papers are 3 hours long, consist of 13 questions (8 pure, 3 mechanics, and 2 probability and statistics questions), each of which will take around 30 minutes. Only the best 6 solutions count towards a student's score. STEP questions often expect students to 'think outside the box' and be comfortable being guided by the question into areas of maths slightly outside of the syllabus. Normally, if you have done Further Maths A-Level you sit STEP 2 and STEP 3, but if you have only done A-Level Maths then you sit STEP 1 and STEP 2.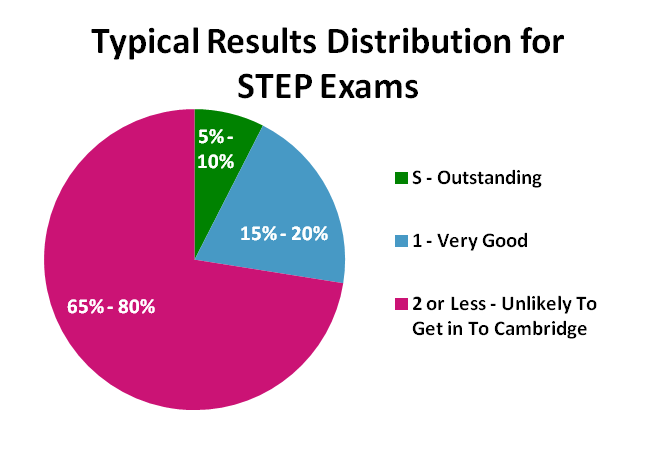 STEP exams are graded in a 5 level system: S (outstanding), 1 (very good), 2 (good), 3 (satisfactory) and U (unclassified). Roughly, four good (not necessarily perfect) answers achieves a 1 (very good), however grade boundaries move slightly year on year. Only 2,000 to 3,000 students take STEP. Results vary by test each year but only 5%-10% achieve an S (outstanding) and 15%-25% achieve a 1 (good). Cambridge asks most students get at least a 1 (very good) on both papers. This means you need to be in the top few hundred people in the country to get into Cambridge.
Students can take STEP at most examination centres (including schools), and entry costs are similar to those of A-Level examinations. They are sat at much the same time as A-Levels and results come out on the same day. However, some schools are not used to entering students for STEP, so parents must ensure that their child is properly supported.
Useful Resources for STEP & STEP Past Papers
There are lots of resources for STEP available free online, including past papers and solutions. We recommend using these as our tutors use them extensively when tutoring. We have prepared a downloadable pack (compressed as a .7z file) with the most useful resources available free online.
Disclaimer: we do not own any of these resources and full credit goes to the original owners.
Selected STEP Maths Testimonials
Please see below some example STEP Maths Testimonials that we have received. If you would like to hear more, you may be interested to read about our tutor guarantee or to read about Wentworth Tutors' philosophy and approach in a letter to parents from Dr Katherine Wiles, our Founder. Alternatively, some more STEP Maths Testimonials can be found on our dedicated testimonials page, where you can filter by subject.
STEP Maths | Samuel Channon
"From the beginning of 2017, I started to prepare for my STEP exams under the supervision of Sam. He is absolutely a good tutor, precise, logical and clearly explained the questions I have problems with. He also provided me many exam techniques which I feel were particularly useful."

... See Samuel Channon's tutoring profile.
Dr Stephen Brown, Curator, Jewish Museum, New York City | Cecilia March
"As may be gathered from her academic credentials, Ms. March is capable of working at an advanced intellectual level. Her abilities, interests, and background make her an ideal tutor. The solid training at Vanderbilt and her continuing graduate studies, the experience of her internships and extra-curricular endeavors, her commitment to study and research, demonstrate that Cecilia is a desirable asset within the field of education"

... See Cecilia March's tutoring profile.